Travelling exhibitions
The Basque Cultural Institute has produced various exhibitions with the aim of introducing different aspects of Basque culture to a wide audience. They often provide the occasion to organise cultural events, both in the Basque Country and elsewhere.
These exhibitions are available for hire. For further details please contact the Basque Cultural Institute. Here is a list of the different exhibitions currently available: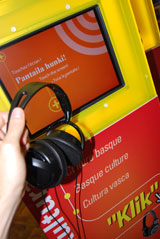 Discover many aspects of Basque culture through multimedia programmes using two tactile terminals. The content of the terminals can be adapted according to demand and the Basque Cultural Institute's catalogue of applications.
Languages: Basque, French, Spanish and English