Guillaume Apheça
Guillaume Apheça (1828-1919) was from Domezain-Berraute (Soule) and worked as an emigration agent for the Bordeaux Colson Agency between 1856 and 1913.
Along with his brother Jean, who lived in Buenos-Aires (Argentina), he organised the voyage for almost 15 000 Basque emigrants. He was Mayor of Béhasque-Lapiste (Lower Navarre) between 1896 and 1912. He died at the Lederna house where his registers were discovered in the 1990's.
The "Apheça" family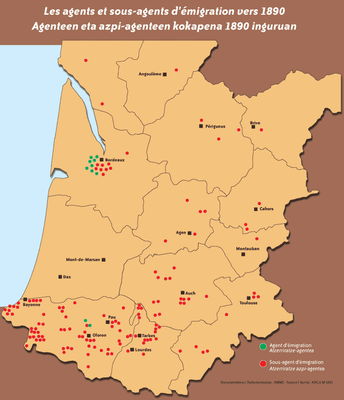 The father, Jean Apheçarena, born around 1800, was master of the "Apheçarena" household. He was a farmer and wheat merchant (flour, grain). The mother, Jeanne Larroque, known as Orrabehere, was born around 1800 in Domezain-Berraute. They had seven children, Marie Apeçarena (1823-1876), Guillaume Appeça (1828-1919), Marie Apessa (1831-1888), Elisabeth Apesça (1833-?), Gratieuse Apessa (1838-?), Pierre Apessa (1841-?) and Jean Apeça (1846-?).
On 29 September 1921, by order of the Civil Courts of Saint-Palais, the name spelt until then in several different ways was declared as being "Apheça".
The emigration agent
Emigration agents were generally public figures with powerful networks of contacts.
They would often have another job: Guillaume Apheça was a trader and rented out property. He was also Mayor of Béhasque-Lapiste (1896-1912).
Emigration agents had to obtain a permit from the Ministry of Agriculture, Trade & Public Works, and provide a large security, whose application process was both long and expensive (laws and decrees of 1855 and 1860). Guillaume Apheça had to wait for five years for his application to be accepted.
Apheça's case is interesting because he worked both as a sub-agent and an emigration agent. He worked from 1856 to 1879 as a sub-agent for the Colson Agency. Then, from 1880 to 1894, he worked as an emigration agent whilst continuing to work as a sub-agent. Finally, from 1895 to 1913 Guillaume Apheça continued to work as a sub-agent for the Colson Agency.
Guillaume & Jean Apheça, associates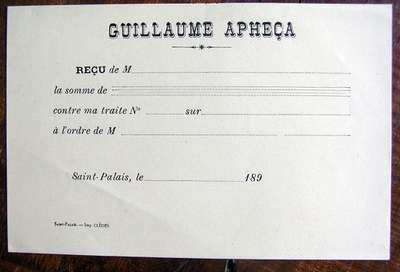 Both brothers worked together forming an experienced team at both ends of the emigration chain. Guillaume supervised departures from Saint-Palais. His brother Jean, who lived in Buenos-Aires, welcomed the new arrivals and subsequently collected the fare for the crossing. Guillaume was able to offer credit since his brother requested repayments on the passengers' arrival.
The Apheça registers also tell us about the two brothers' trade between Europe and Argentina (berets, belts and coats) which were part of the dress of Basque emigrants.
Intermediaries
The emigration agent worked with relays, businessmen who consolidated his situation and also enabled him to fully cover the area where he worked.
We know of several sub-agents who worked for Guillaume Apheça: Jérôme Maytie from Tardets, the Etchebarne family from Saint-Jean-Pied-de-Port (Adolphe and Jean Pierre).
Letters in the Apheça archives prove the existence of relays between Guillaume and Jean: Rodes and Hiriart in addition to others: Rospide, Paguéguy, Jean Chapar, André Hourcade.
Other emigration agents
An administrative survey was ordered in the Mauléon district in 1900 (provinces of Soule and Lower Navarre) in the Lower Pyrenees department (Atlantic Pyrenees since 1970), the main area to supply emigrants. The sub-prefect of Mauléon sent a list of names of all the recruitment agents and emigration agents, including:
Besides Guillaume Apheça, Jean Vigné, Grison Charles from Tardets and Léon Inchauspé from Saint-Jean-Pied-de-Port also worked for the Colson agent in Bordeaux.

Fermin Iralour from Saint-Jean-le-Vieux worked for V. Depas in Bordeaux, as did François Sallenave d'Arbouet.

Séhabiague from Viodos and Jauréguy from the Aldudes worked for Henri Zuber in Paris.

Jean-Baptiste Monlong from the Aldudes was the only one to work for two partners, the Parisian Henri Zuber and the Bordelais Sarasola.
Resources
"Les archives de Guillaume Apheça, agent d'émigration". Maialen Irigoyen. Master's dissertation 1, 2008.
L'émigration et de la mémoire dans la vallée de Saint-Etienne-de-Baïgorry. Claude Mehats, 2009.
Euskaldunen Argentina Exhibition on the www.eke.eus portal website.
"L'émigration basque en Argentine et les frères Apheça". Basque Museum Newsletter, n°156, p.27-50, 2000. Dr Urrutybéhéty.
"L'émigration basque en Argentine et les frères Apheça". Bulletin du Musée Basque, n°156, p.27-50, 2000. Dr Urrutybéhéty.
Guilhaume Aphéça
Olivier Chatard