The exhibition
SOKA capitalizes on the opportunities provided by multimedia in order to reveal the social, historic and artistic facets of a custom that is as local as it is universal, not only through media created for the occasion but also through rare and previously unseen documents.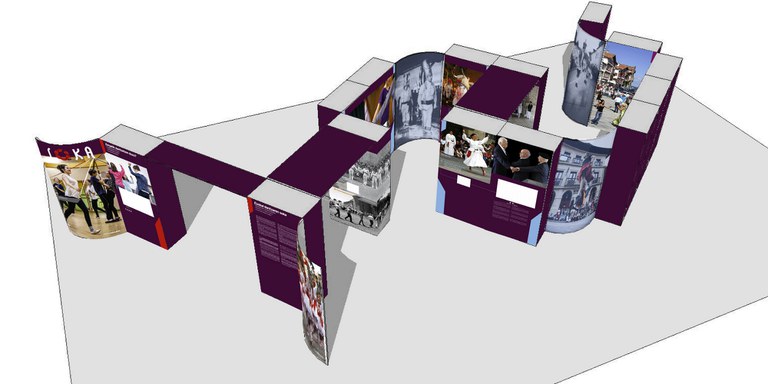 The Basques have a long history of dancing in public holding hands, or put another way, dancing in a chain.
From one generation to the next, the Basques have passed on through chain dancing their own culture and language, a place to open up to the world and a dance to live together. Euskara (the Basque language) and Basque dance are the two means of expression used by the Basques to communicate, feel and live. The language uses words, Basque dance the body.
What is Basque dance? Who has shaped and performed it? What are its main features? And why is it that the Basques continue to dance in such a particular manner in the 21st century? These are just some of the questions raised by this exhibition. Why was the ancient dance chain not broken in the land of the Basques? What is it like to dance in a chain in the era of globalisation and communication?
This exhibition observes the Basque world through dance. It questions the future of Basque dance and, in doing so, invites the spectator to take a look at the past, the village square, the stage, society, power, authority, struggle, revolution, hierarchy, quality, cohesion, the ceasefire, the conflict, transmission, genre, age, protocol, pleasure, worship, celebration, tradition, renewal, religion, secularisation, duration, disruption, enjoyment, excellence, triviality, customs, culture, the Basque language, dance and the chain. The chain of Basque dance: SOKA