Geography
The Basque Country is located in the south-west of Europe, lying between rivers Aturri to the north and the Ebro to the south.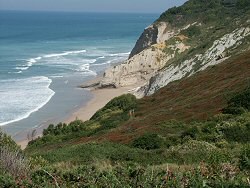 It can be divided into two great watersheds: the Atlantic and the Mediterranean. The mountain chains of the Pyrenees, Aralar, Aizkorri and Gorbeia form a dividing line between the two.
The climatic variation, in turn, gives rise to significant differences in scenery, mountains, valleys, plains and so on, and the Atlantic part has a coastline.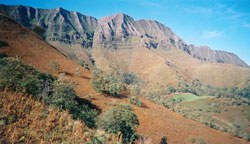 The area in this Atlantic part is mountainous, as the Pyrenees, extend almost to the sea.
At the western edge of the Pyrennes the highest peaks on the Basque Country are found: Hiru Errege Mahaia, Kartxela, Orhi...
Apart from the Pyrenees, there are many mountains inextricably linked to the traditions of the Basque Country and to its history : Gorbeia, Aizkorri, Anboto, Aralar.